New Rider Class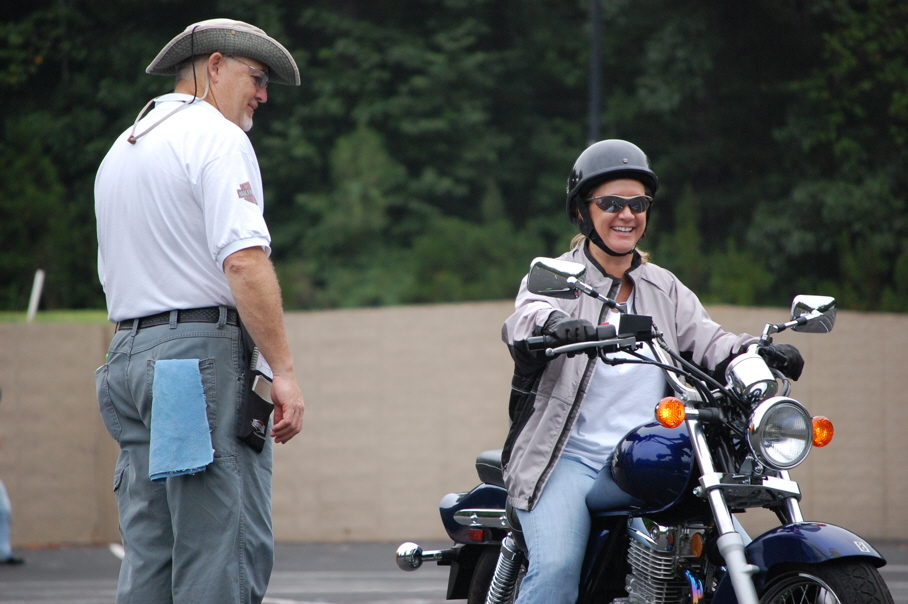 The New Rider License Class  – $325**
What are some of the benefits of taking the New Rider Course?

Georgia State License Exam Waiver
Successful completion of a course earns the graduate a MSF Completion Card and State of Georgia waiver card.  The waiver card grants a waiver from the Department of Driver Services' motorcycle licensing written test and on-cycle riding test.  It does not waive the vision test or any fees. The card is only valid for 90 days from the day the course ends. Students under the age of 18 who successfully complete the Basic Course MUST be at least 17 years of age BEFORE the 90-day waiver period expires to get their license. They must also meet the requirements of Joshua's Law (Contact Georgia DDS for details).
In the Basic RiderCourse, you will learn:
To have more fun by riding your motorcycle safely.
The basics: what to wear, how to start and stop your motorcycle, and motorcycle controls.
Street strategies to avoid trouble and stay safe.
Learn how to maneuver your motorcycle in tough situations.
Learn swerving, avoiding collisions, special situations, lane changes, passing, and avoiding hazards.
More about the BRC
The Basic RiderCourse is a 14 to 15 hour program, which provides classroom and actual motorcycle operator training in a controlled, off-street environment. No experience is necessary; a good sense of balance is required (you must be able to ride a bicycle).
Here's a short list of some of the topics covered in the course.
Introduction to motorcycling

Protective gear / What to wear

Controls such as the clutch and brakes

Pre-ride inspection of your motorcycle

Preparing to ride your motorcycle on the class range

Street strategies to avoid trouble and stay safe

Driving and riding impairments such as use of alcohol and drugs

How to maneuver your motorcycle

Avoiding obstacles

Lane changes

Passing

Riding at night

Collision avoidance skills

Swerving

Special situations

Carrying a passenger or cargo

Dealing with tire failure

Dealing with animals

And other topics, all included to increase your motorcycle riding enjoyment and safety.
About the class
You can expect to have 5 hours of classroom instruction and 10 hours of on-motorcycle instructions.  A Rider Handbook will be provided and is yours to keep as a valuable reference after your class.  After the classroom and range exercises you will be given a written exam and a riding skills exam.  After passing your exams you will be given a MSF Completion Card and State of Georgia waiver card.
The training motorcycle and a DOT approved helmet will be furnish.  Students will need to furnish sturdy over-the-ankle footwear, a long-sleeved shirt or jacket, and full fingered gloves to participate in the riding portion of the class.
Tuition Fee
The tuition covers the use of a training motorcycle and a full-face helmet, a Motorcycle Safety Foundation workbook for you to keep, and 12-15 hours of instruction (approx. 5 hours classroom and 10 hours on the riding range) during a the class period.