Frequently Asked Questions
Frequently Asked Questions about our Basic RiderCourse
---
What's it like taking the weekend course? 
Arrive between 
7:30am to 7:45am
Saturday morning and your course will begin in the classroom where there are several classroom activities to help everyone become familiar with motorcycles and answer many questions people who are not familiar with motorcycles may have.  After the classroom session the first riding session will begin.  This portion of the course is divided into exercises.  The first exercise is centered around becoming familiar with the motorcycle you will be riding all weekend.  As the morning progresses you will learn how to start and stop the engine, ride the motorcycle, shift gears, make turns and stop the motorcycle by using the brakes.
Many things can happen which make it impossible to follow an exact schedule, but if everything goes according to schedule you'll be through with your first morning's riding by mid-afternoon allowing for a one hour lunch break (you can either bring a lunch to eat or go to any of several nearby restaurants).
Saturday afternoon you will remain in the classroom and have an opportunity to explore some important information about riding a motorcycle safely in the real world, where automobiles, animals, debris and other things present substantially different hazards to a motorcyclist than to a person in a car.  This portion of the classroom will present techniques which help motorcyclists manage risk and enjoy safe riding.  Generally the classroom will be dismissed somewhere between 5:00 and 6:00 PM depending on our progress through the program.
Sunday morning at 8:00am (or as announced by the Ridercoach) the second riding session will begin promptly.  Arrive early, the exercises will start promptly and you cannot continue if you miss any of the riding sessions.  The exercises on Sunday will concentrate on real-world scenarios and give you an opportunity to practice some of the hazard avoidance techniques discussed during the Saturday evening classroom.  They will also help you learn more about cornering and effective braking.
Once again the schedule can vary considerably, but if everything is going according to schedule you'll break for lunch, after which you will re-convene for the class wrap up.  This will include two evaluations.  One of them is a written evaluation consisting of 25 multiple-choice questions.  These questions will all be from the material covered during the two classroom sessions.  The other evaluation will be a "riding skill evaluation", during which your ability to ride a motorcycle will be assessed objectively.  The riding assessment will be from exercises you practiced during the riding portion of the program
Around 5-6PM (if everything goes according to schedule) on Sunday afternoon the motorcycles will be put back up and your coach will have everyone re-convene in the classroom to finish everything up.  At this time you will find out how you did on your tests and receive your completion packet.  The class will then be dismissed around 6PM, sometimes earlier.
---
When do I get my motorcycle license?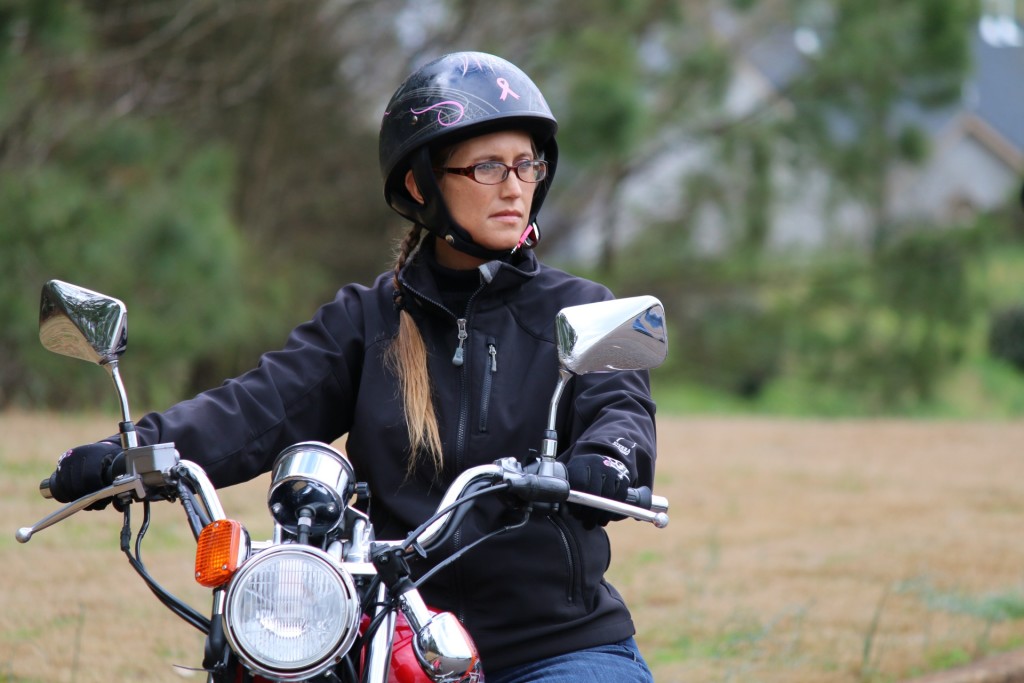 Although we are not able to actually hand you a motorcycle license when you complete the class, we are able to do the next best thing.  If you pass both the written and skill evaluation you will receive two cards from us. The larger card proves you successfully completed the evaluation to the satisfaction of the State of Georgia Department of Drivers Services.  It should be taken to the Georgia Department of Drivers Services customer service center.  When you show them this card they will waive their skill and written test and reissue your driver license to include the full motorcycle license endorsement giving you the unlimited right to operate a motorcycle in the State of Georgia.  The completion card we give you is only valid for 90 days from the day the course ends.  You are likely to have to take the eye test and will definitely have to pass the money test.  The other smaller card is the MSF Basic RiderCourse Completion Card showing you successfully completed the MSF Basic RiderCourse.
If a student is under the age of 18, a parent or legal guardian MUST accompany the student to the first class meeting to sign a waiver form. Students under the age of 18 will NOT be allowed to attend unless a parent or legal guardian is present at the first classroom session (NO EXCEPTIONS).
Students under the age of 18 that successfully complete the Basic Course earn a 90-day License Waiver. However, to get their license, the student must be at least 17 years of age BEFORE the 90-day waiver expires. They must also comply with the requirements of Joshua's Law.
The smaller card mentioned earlier is a MSF Basic RiderCourse Completion card can be presented to your insurance company possible discount on your motorcycle insurance.  I have been told that some merchants also will honor it for some discount pricing.
---
Am I too old to take the class?
There is no age limit for individuals wanting to take the class. Obviously there is a certain amount of effort involved in riding a motorcycle. It is more demanding physically as well as mentally than operating an automobile, but many older people well into their 70's and 80's decide that they would like to give motorcycling a try and end up enjoying it very much.  Each of us has to decide for ourselves if we have the ability to do certain activities. If you think you would like to try learning to ride a motorcycle, taking our class is an excellent way to find out if this sport is for you or not.
---
I don't have a motorcycle. Can I take the class?
Absolutely you can. We provide the motorcycles for the Beginners RiderCourse (BRC). See the next question for a description of the motorcycles we provide!
---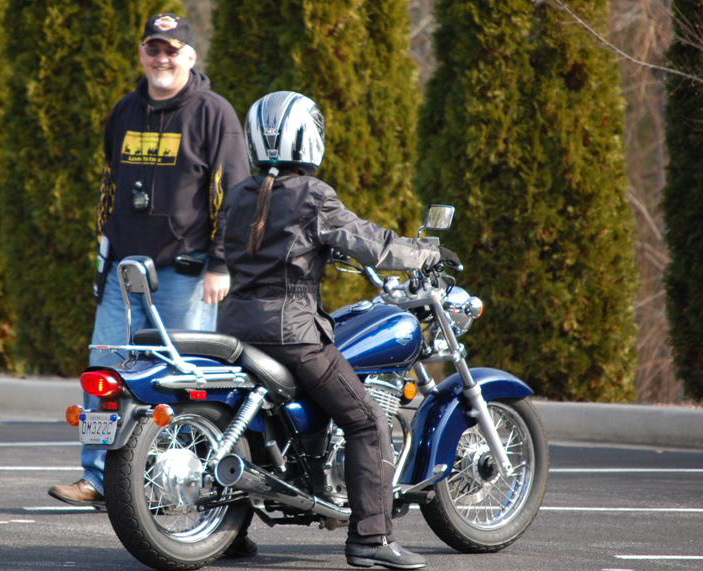 What kind of motorcycle will I be riding?
We have several different motorcycles which we use for training bikes. In keeping with standards set by MSF the motorcycles we use as training bikes are limited in size, weight and power. Generally the engine size is 250cc or less for all our bikes. Seat height is also an important consideration, especially for riders who don't have very long legs. We have various bikes with different seat heights and seating positions. Our RiderCoaches use their experience and knowledge of various models of motorcycles to help each student find a bike that fits them suitably before the riding begins. If you have any questions or concerns about the bike, be sure to address them to your RiderCoach.
Specifically, our fleet of training bikes include: Honda Rebel 250, Suzuki GZ250, and Yamaha V-Star 250.  Each is very well suited to maximize your training experience and fun.
---
What if I want to ride a Scooter?
At this time we only have motorcycles in our fleet.  If you already have a scooter and it meets very specific MSF guidelines and a required safety inspection by our coach, then you may be allowed to use it during training.  However, please confirm all the details before signing up for a class.
---
Can my Husband/Wife/Significant Other come and watch the class?
As a general rule we cannot allow someone to participate in the class all weekend unless they are officially signed up for that weekend. That means if they are in the class room they are participating and must sign up beforehand.  The range activities are held in a private parking lot, and for safety and liability reasons only those signed up for the class can be present.
It should be noted that sometimes the presence of a spouse or "significant other" often poses a distraction to a person trying to master a challenging skill, and the feeling that they are "being watched" can often add to the anxiety often felt while trying to do something difficult. This can be very counter-productive.  Please remember that our RiderCoaches are specifically trained to evaluate and coach new riders effectively and that our coaching methods can be subverted by a sideline spectators and well intentioned want-to-be coaches.
---
What do I need to bring to class / to the range?
What to bring to the classroom portion:
Just dress comfortably and casually. Bring a smile and be prepared to have fun!
What to bring to the range:
For your own comfort it's a good idea to bring some drinks and snacks to the range so that during breaks you can refresh yourself as needed. There are no vending machines or drink machines at the riding range.  Of course you'll need proper riding gear.  Dress for weather conditions.  We will learn to ride in all weather conditions as long as it is free of lightning, ice, and safe.  Do bring a rain suit  or poncho if it is raining or possibly going to rain.  We conduct classes in the rain, sleet, or snow as long as condtions are free from ice and lightning.  We rarely cancel a course because of weather.  Layer your clothing during cold or cooler weather so you can remove layers as the day warms.
---
I don't have a helmet. Do I have to buy one first?
We can lend you one of our helmets so that you don't have to buy one before taking the class.  If you bring your own helmet it absolutely must be DOT approved and full-face or modular full-face or you will not be able to use it during our class.  A DOT approved helmet will come from the factory with a sticker on the back that says DOT. It will also have other key features which we will be looking for.  Please do not try to "sneak in" a non-DOT approved helmet for use on our range.
---
What kind of clothing do I have to wear when riding?
Any time you are seated or riding a motorcycle during our class you will be required to wear the following:
DOT approved full-face or modular full-face helmet, and it must be securely fastened to your head.  You can wear your helment as long as it meets these requirements and the inspection of our coaches.  Our coaches decisions are final.  We provide a loaner helmet if you do not have one.

If your helmet does not already include it you will be required to have some form of impact resistant eye protection.  Our helments have face shields

Long sleeved shirt or jacket (provided by you)

Full fingered gloves (sorry, fingerless gloves are not allowed!) (provided by you)

Long, sturdy pants such as jeans, leather, etc. (provided by you)

Sturdy, over-the-ankle footwear.  They cannot be made from canvas or be light weight sneaker type shoes.  We're talking about boots that give over the ankle support and protection.   (provided by you)